Down The Rabbit hole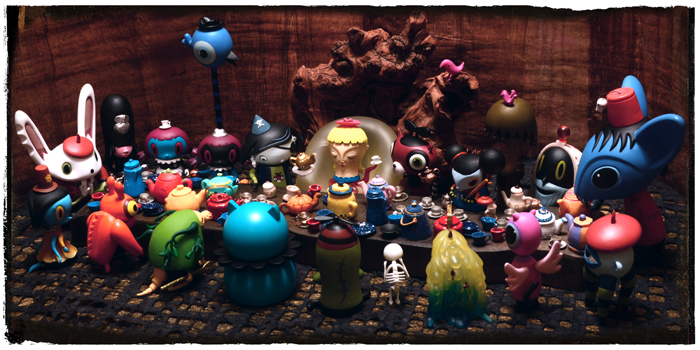 In the spring of 2012 I reached out to Nathan Jurevicius and shared some photos I had taken of his figures. This can be a really rewarding and exciting experience not knowing how certain artists will react. Nathan responded really positive and threw out the idea that he would enjoy seeing a photo featuring just his figures as I tend to mix up my photos with lots of different artists' toys. I was all for it and came up with the idea of doing an Alice In Wonderland photo considering he had figures resembling the infamous rabbit, Mad Hatter and a slew of wild creatures that would fit the theme. But there wasn't a clear choice for a blonde Alice. I wishfully asked Nathan if he would create a new figure to fit the role but instead I ended up getting some yellow paint and customized one of his existing figures.

The piece was included in a huge tribute show to Nathan's amazing Scarygirl creations for his 10 Year Anniversary on Halloween in NYC at Toy Tokyo's Underground Gallery. This show featured the who's-who of the toy designer world and I was honored to be a part of it!

There will only be 5 of these that will ever be printed so pick one up before they're gone!